Requirements for installation
CnW Data Recovery software is for Windows PC only. It will operate on Windows Vista, Windows 7 and Windows 7 64 bit, and Windows 8 (32 and 64), Windows 10. (Windows XP is frozen at V4.44). The machine specification is not too critical, except when it is required to recover from very large disk drives. The minimum spec could be as follows
Pentium Processor 1.8 GHz or better. Multi-core recommended
2GB Ram - more prefered
20MB program memory space
Free disk space to match the size of media being recovered, plus logs
1024 x 768 monitor
Multi-core processor, the software uses multiple cores when possible to enhance performance
For camera memory chips a USB port and card reader will be required. For CD ROMS, DVDs, hard disk drives, and standard PC interface will operate. This includes USB, SCSI, IDE, Serial ATA and Firewire.
Software Installation
Software should be downloaded from the web site, www.cnwrecovery.com and click on the download page. The demo software and release software are the same, but are then controlled by the registration key. The most significant difference is that the demo will not save any files.
The downloaded program is cnwinstall.msi which if saved, should then be launched in the normal way by Windows Explorer.When downloading, it is also possible to Run the program, rather than save it. The options are standard Windows install options, and generally the default can be used safely.
To run CnW administrator rights are required. This is because the software has to access areas of disk that may otherwise be forbidden.
Starting for the first time
After installation, there will be an icon as part of the Start task manager. On initial startup, it will run in Demo mode and will display a window with possible media types, and combo boxes to allow a specific drive to be selected. All drives must be recognised as a drive letter, or as a Physical drive by the PC even though the PC may not see all, or any of the files on the media. CnW Recovery takes over here to recover the lost data.
The demo program works on all available formats - but will not save any files. However, if a file is seen in the log, it can be viewed by double clicking on the log line.
For Vista, Windows 7 and windows 8, it is necessary to start the program in Administrator mode
Registration Key
Licenced copies of CnW Recovery software are licenced to a single machine. In order do this, it is necessary to send an 8 character string to CnW who can then release a registration code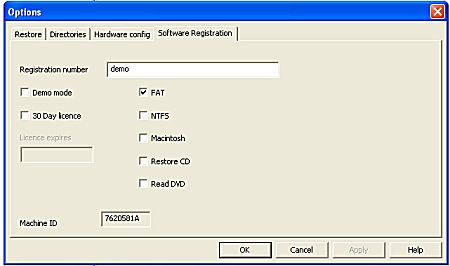 The registration screen is reached under View / Options / Software Registration. The important string the Machine ID which is an 8 byte Hexidecimal number, unique to each PC
Program Logs
Logs are a very important part of the forensic recovery program, and they can grow to 100s of MBs. On configuration it can be helpful to store the logs on a drive with adequate space. Another option with NTFS is to set the log directory to use compression. Typical logs will compress to about 15% of the original size